Mayoral Mochela encourages youth to register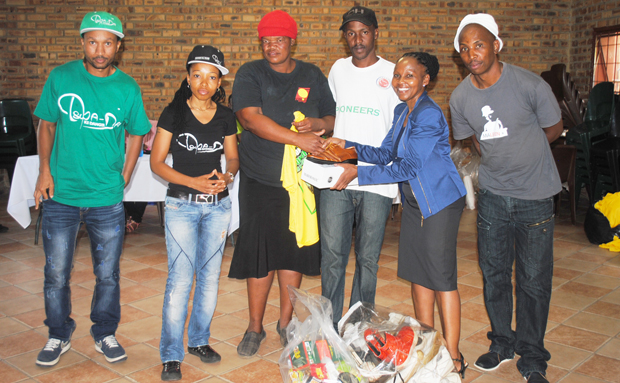 The Mayor of Ngwathe Local Municipality, Councilor Joey Mochela, embarked on a roadshow with the sole purpose of motivating young people across the board and make them understand the importance of registering with IEC so as to make them eligible to vote at the forthcoming 2014 general elections.
This activity was motivated by recent registration statistics which revealed that young people were not registering in great numbers within the municipality. The roadshow under the theme 'Deepening Democracy Through Youth Participation' started with a visit to Parys Correctional services. As part of Mayoral entourage, renowned professional broadcaster and media practitioner, Dj Twasa delivered motivational words to inmates.  Former prisoner, now motivational speaker and music artist, Maleven, spoke to his ex-inmates through performances and cosmetics were donated to at least 140 inmates.
In her own words, Mayor Mochela encouraged prisoners to play a meaningful role in the society by registering to vote during election period. Some of these inmates would be back in the community by then and is it therefore important that they take part in deepening this democracy. Mayor went further to deliver a word gratitude to IEC for also visiting inmates to register them in the same week.
On the same day, 20 less privileged families benefitted groceries from Mayoral Poverty Alleviation project. Lesang Bana and Reahodisa preschools received donation of toys respectively after their requests to the Mayor.
The program for the day ended with youth motivation session held at Jackpot park in Tumahole with Twasa and Maleven entertaining and motivating hundreds of young people. Mayor Mochela also sent out a word to the youth especially eligible first time voters to visit IEC stations on Saturday and Sunday to register their names on the voters roll. We also thank our media partners and organized youth structures for mobilizing young people from different organizations for the success of this program.